Unlimited Facebook access with Airtel on your mobile
NaGSM - Nigerian GSM Blog
---
Home
|
Internet
|
( 2 )
|
Subscribe
Posted by
Felix Okoli
on Wednesday July 10, 2013 at 8:14:41:
If you are the kind of person that does a lot of Facebooking on your mobile and want to keep doing it without having to pay for data on a pay as you use basis, there is a new plan by Airtel Nigeria that is worth checking out.Airtel has a new Facebook plan called Facebook bundles. What this plan offers subscribers is the ability to access heir Facebook accounts with their Airtel Sim and just pay a flat fee for doing so irrespective of how much data they've used.Well, for those of you who know how much data Facebook can take when using your internet service, whether you are reading messages or viewing pictures, posting messages or chatting, using a Pay as you use or data limited plan is not a smart idea.It seems Airtel recognizes the love Nigerians have for Facebook and that's why they are offering you the ability to just pay a flat fee forward and be able to access your Facebook account with an unlimited amount of data.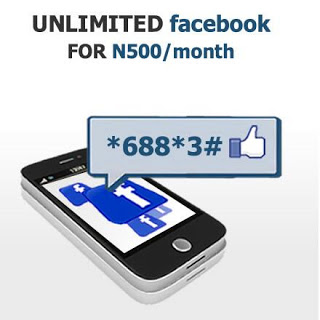 Enough talk then, here are the unlimited data Facebook plan available on Airtel Nigeria:Daily Facebook plan: N50
Weekly Facebook plan: N200
Monthly Facebook plan: N500Now imagine paying as low as N50 for accessing your Facebook account anytime and for any amount of hours or data throughout the day while still paying just N50. If you are the kind that wants more, you could as well go for the monthly plan by paying as little as N500 per month rather than paying N50 for 30 days.How to subscribe
==================
- Ensure you have an active Airtel sim with airtime credit
- Decide on the plan you want
- Send the activation code to 688 or dial the USSD code
- Now you can access Facebook anywhere you are.USSD Activation codes
==============
Daily: *688*1#
Weekly:*688*2#
Monthly: *688*3#SMS Activation codes
==============
Daily: dfb
Weekly: wfb
Monthly: mfbOther codes
==============
Status check: Dial *688*0#
Help: SMS help to 688What do you think about Airtel's Facebook plan?
---
Comments:
Re: Unlimited Facebook access with Airtel on your mobile Posted by Ermias Aklilu on Saturday August 10, 2013 at 14:56:35: pleas activate unlimited facebook to me to display my facebook on my mobile phone


---

Re: Unlimited Facebook access with Airtel on your mobile Posted by BIRUK FIKRU on Friday August 23, 2013 at 21:52:36: It is good keep it up


---

Re: Unlimited Facebook access with Airtel on your mobile Posted by NGENO KIPKORIR on Thursday September 5, 2013 at 19:25:9: it is good but the problem is that i cannot access Fb in Kenya usingTECNO T390 WHY?


---

Re: Unlimited Facebook access with Airtel on your mobile Posted by PEL on Tuesday April 29, 2014 at 18:46:12: pls configure my t342 and how can i download 2go on china techno t342



---

Re: Unlimited Facebook access with Airtel on your mobile Posted by Bambe Mayowa on Wednesday May 28, 2014 at 15:44:7: how can i login facebook with tecno t20


---

Re: Unlimited Facebook access with Airtel on your mobile Posted by Felix Okoli on Wednesday May 28, 2014 at 15:44:7: You can try going to 0.facebook.com


---